Hiyo, Bunnies! I'm back from my trip! Did you miss me?
I had a really lovely time visiting my boyfriend in
Arizona
. We hung out in
Las Vegas
for a bit before going to do things around his town. We even got to go on movie dates! We saw
How to Train Your Dragon 2
(I LOVE THAT MOVIE TO PIECES) and the latest
Transformers
with Mark Wahlberg. It was an even better trip than the last! I'm already planning on when to go back.
And now I'm back in NY and back to blogging. I also reopened my
♥ Etsy Shop ♥
with a special deal! When you spend 10$, you can use the coupon
WELCOMEBACK
and get
FREE SHIPPING
! I hope you'll come by and check it out!
And now, for the topic at hand...
30 Day Video Game Challenge!~
Day 2: Your Favorite Character
This was a true challenge! It's never until you actually sit down to think and go through your library to realize that you've played a lot of games in your lifetime. Much less how many
RPGs
you've played. I'm not really into shooters and fighting games are more fun when you have others to play with you. So being the only one in the house that lived on games, RPG was my main genre.
I've played well-known games like the
Final Fantasy
and
Pokemon
series but most of my collection, I'm proud to say, has many obscure ones like
Legend of Dragoon, Wild ARMs and Suikoden
. And my favorite character comes from one of these obscure titles.
It was a really great game for the original
Playstation back in the late 90s
. It not only had a nice fighting system but it had an amazing storyline with a big moral to it. But it wasn't one that was in your face. You had to get pretty far into the story to realize "OMG, we really do need to be careful."
My favorite character is actually one of the main protagonists named
Noa
. She was the most innocent out of the three, the other two named Vahn and Gala. She was brought up in the wild so her mannerisms were a little rough and she questioned EVERYTHING. But she was also very sympathetic and used her good heart to help anyone that needed it. She had the cutest voice, which for some reason was never actually dubbed when the US got the English version. So all of the voice acting was kept to the original Japanese. The text, however, was all English.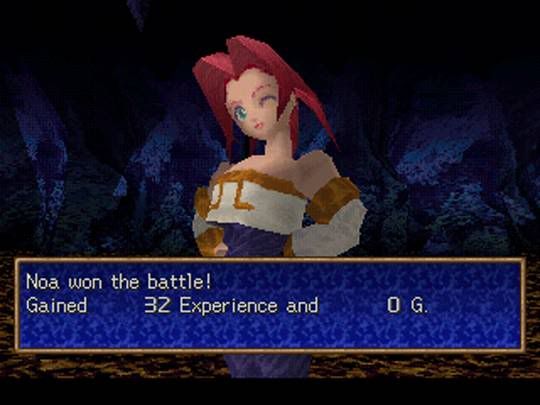 I highly recommend this game if you're into RPGs and into fighting. You should be able to find it used in a video game store or somewhere on eBay. But if you're having trouble finding it, it's too expensive or you're not sure about it - definitely check out my friend
♥ Lady Arieta's Youtube page ♥
! She does really great "Let's Play" videos and she did play through Legend of Legaia!
Let me know what you think of the game if you've played it or going to play it!