Hope you're having a wonderful week! I have a new
Kawaii Review
for you buns today!
I finally decided to get one of those new
aquarium cases
for my cell phone. And since I now have a phone that has more accessories available for it, I decided to go for it. Of course, with the awesome shop I got it from, finding a custom case wasn't gonna be a problem.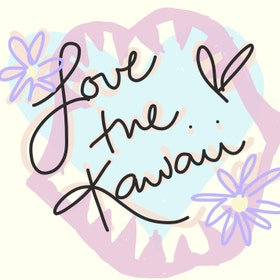 I got my case from
Love the Kawaii
Love the Kawaii is a deco phone case shop where you can find kawaii cases, pre-made and custom, for any type of phone!
Kiki
, the sweet owner of the shop, is so pleasant to talk to and has a great sense of design~
I saw a phone case she had done for another customer that featured My Melody and fell in love. She helped me put together one that was right for me!
With planning, actually making the case and shipping, the whole process took about 2 weeks.
Here is how my package arrived!
I honestly was expecting just the case and a card but I was very happily surprised! So much care, time and attention to detail went in my package. Everything came neatly wrapped in the organza bag.
Inside were two bags - one with my case and the other with little goodies!
Here is the goody bag - a sweet hand-written note on adorable stationary, a pencil, Little Twin Stars tissues and a couple of candies~ I love how there were bunnies on some of the items ♥
And now for the main star of the show~!
My S6 case - carefully wrapped and protected in the cute little gift baggy and bubble wrap. I felt like it was my birthday!
How gorgeous is my case! I wanted something with My Melody and another cute character. It was finally decided to add
Hummingmint
, the cute little deer!
The case is very sturdy and colorful. It's framed with a light pink glitter whip and decorated with cute cabochons of very kawaii pieces. There are even rhinestones around the camera space! Totally fit for
Himekaji
and
Hime
styles.
In the video, you can see all of the pretty pink hearts and glitter falling down.
Kieli's Rating

| | |
| --- | --- |
| Contact | |
| Price | |
| Shipping | |
| Quality | |
| Comfort | |
Overall Rating
The phone case is exactly how I wanted and even more adorable in person. Extra care went into protecting my package in shipment. The goodies that came with it were a very lovely surprise! And Kiki is great to work with. Her work is amazing. Please be sure to check out her shop~!
Hope you liked my review!
That's all for now! See you next time!