Hiyo, Bunnies!
How are you all doing? Enjoying the fall season so far? It's also the month of everyone's favorite holiday -
Halloween
!
While everyone is getting ideas on how to dress and even include Lolita, I'll be working on Halloween Treats! After all, the phrase is "Trick or Treat".
If you're planning on a Halloween-themed Lolita party or you don't want to scare your little ones, these are some awesome treats that I found that are perfect! They're super cute and fun to make! To view the original recipes, just click on the images!
Halloween onigiri: the Great Pumpkin says "Hai!"
These easy to make pumpkins are actually onigiri. (Click on the image to see the original recipe) But you could actually use the same technique to make them out of rice krispies! To make the stems, you could use a green candy or green chocolate stick or even just "draw" with icing in a piping bag. And the face can be made with regular chocolate.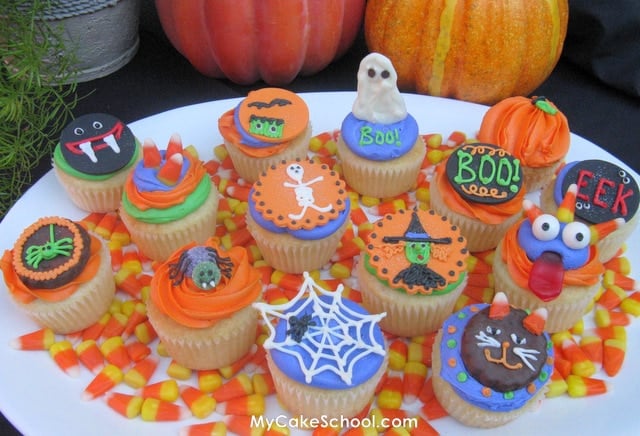 Ghoulish Goodies Cupcakes
Depending on how you decorate these cupcakes, they can be simple enough for the beginner or for a more advanced level. You just make a regular yellow cake cupcake to the size you desire. Then take a bunch of decorations (or make them) in Halloween colors and decorate!
You can use skewers, cookie sticks or even pretzels to make these treats! Just take your favorite candies and chocolates and skewer them on. If you're having a party, it would be fun to have a bunch of bowls filled with different things so people can make it DIY with their favorite combinations!
If you love Pumpkin Pie but find yourself full before you can eat the whole thing, give these a try! They're tiny, cute and perfect so you won't overeat!
Frankenstein Pudding Cups
These are also extremely easy to make! And all it takes is some vanilla pudding, green food coloring, crushed oreos and a marker to draw on plastic cups!
With just fresh strawberries and a chocolate dip, you can make super cute Halloween creatures!
Attack of the Zombies Marshmallows
This is another fun DIY project for your party guests! Just leave the supplies out with some directions and watch the fun!
Remember Lunchables Pizza boxes? Those were my favorites growing up. And they're just perfect for mummy-making Halloween fun!
Cheese and pretzels are yummy together and this is a cute Halloween treat! The original recipe is in spanish but there is a handy translator on the sidebar!
Jack-o'-Lantern Burgers
Even if you're not a fan of meat, you can definitely alter the recipe for a vegetarian and still make it as festive!
I hope you enjoyed this post! I'll definitely be making more lists for more fun events and holidays! Have a fun and safe Happy Halloween!