Hi Bunnies!
How are you all doing? While the update for my shop
♥ Rainbow Star Candy ♥
is taking a little longer than expected, I have another
30 Day Challenge
for you!
Anime You're Ashamed You Enjoyed
It took a lot of thinking for this post. I have watched so much anime over the years that I didn't know which one this could apply to. But finally, I found it! Not sure if anyone remembers this series anymore or even heard of it, but my choice for this post is:
Prétear
(

新白雪姫伝説プリーティア

Shin Shirayuki-hime Densetsu Purītia)
(
also called
Prétear - The New Legend of Snow White)
That's right, it's a take on the fairy tale story of
Snow White
. It started off as a 4-volume manga that ran from 2000-2001. It later 13-episode anime in 2001. It's about a high school girl named
Himeno
who was on her way to school when she suddenly bumps into a man named
Hayate
. It turns out he is a Leafe knight who is looking for the one that will help save everyone from the soon to awaken Princess of Disaster.
It is definitely a Magical Girl series as Himeno soon finds out that she has powers herself but she needs each of the
7 Leafe knights
(
just like the 7 Dwarves!
).
Each knight gives her a different power with a different outfit! Only the way she combines powers with them is if she merges with them. (Cue in sexual innuendos here.)
And in case you were wondering, yes, Himeno does have a mean stepmother and stepsisters.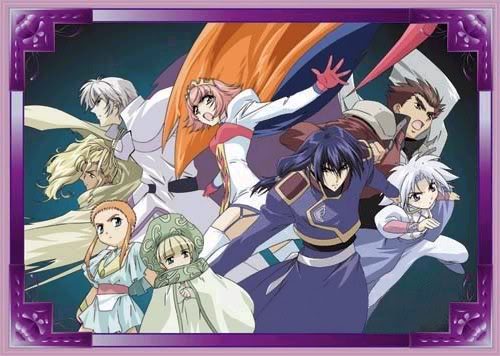 The series was very flashy and pretty in Magical Girl terms but also had a few minor sexual jokes that did make me chuckle. And I actually do own the DVD box set. If you're looking for an older series that you don't have to take seriously and want to have a little laugh while still being in that Magical Girl mode, this is definitely a series you should check out!
Let me know what you think!