Hiyo lil bunnies!
Here is a
kawaii review
for you today on my friend's awesome shop
Sugar Junkie
!
If you haven't heard of it before, it's run by the awesome Jamie who is an amazing crafter and designer. If you've been reading my blog long enough, you'll remember the older review I did for her
here
! Since that review, her shop grew a lot and carries more goodies like kitty lollipops, Die Antwoord, and mermaid necessities~
There are beautiful resin pieces, crocheted work, candles and now apparel! All of the designs are her own and you can find tights, dresses and even crop tops. One of my favorite pieces, which I bought and showing you today, is her adorable
Boobie Buns Dress
!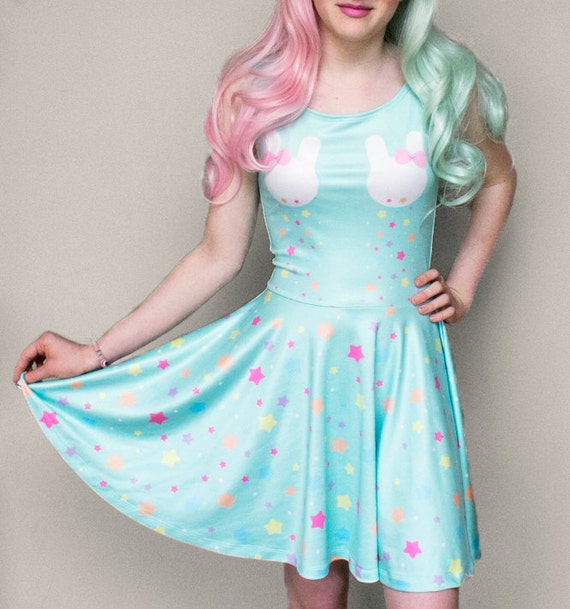 Photo as on Etsy shop
Here is the dress all laid out! It's a skater dress so it's very comfy and stretchy. Made of a poly/spandex mix!
Close-up of the top where the Boobie Buns are!
XD
They really do sit right on your boobies LOL! I love how clear and clean the design is. The colors are bright and vivid. I think she did an amazing job.
(Please excuse the creases! >.< I literally took it right out of the package when taking the photos! So do expect them from shipping! I promise they come out!)
Shots of the front and back
There's even a cute little pink bow on the back so it's not just a plain back. And the dress itself is true to the picture that's like a turquoise blue/green mix. And the stars look like colorful konpeito candy!
Here are some pics of it being worn~!
It was actually really warm the day I wore it but I was super comfortable! Even with me wearing tights...heehee. I bought it in a Medium size and paired it with my bunny flats from Loli Loli Paradise and bunny face tights. The pink of the dress matched perfectly with my shoes! I'm so happy it worked out like that!
You can also see that after wearing it, the creases disappeared~
Kieli's Rating (out of 5)

| | |
| --- | --- |
| Contact | |
| Price | |
| Shipping | |
| Quality | |
| Comfort | |
Overall Rating
The dress is fitted at the top and flares out at the bottom and not just hanging flat. It fits me just right and I can't believe how comfortable it is to wear! It works for all of my styles and I can pretty much wear it anytime of the year. And Jamie is a sweetheart! SUPER happy with this purchase!
If bunnies aren't your thing, she also has cupcakes, fried eggs, mermaid scales and even a marshmallow pentagram. So there is definitely something for everyone!
That's all for now! See you next time!